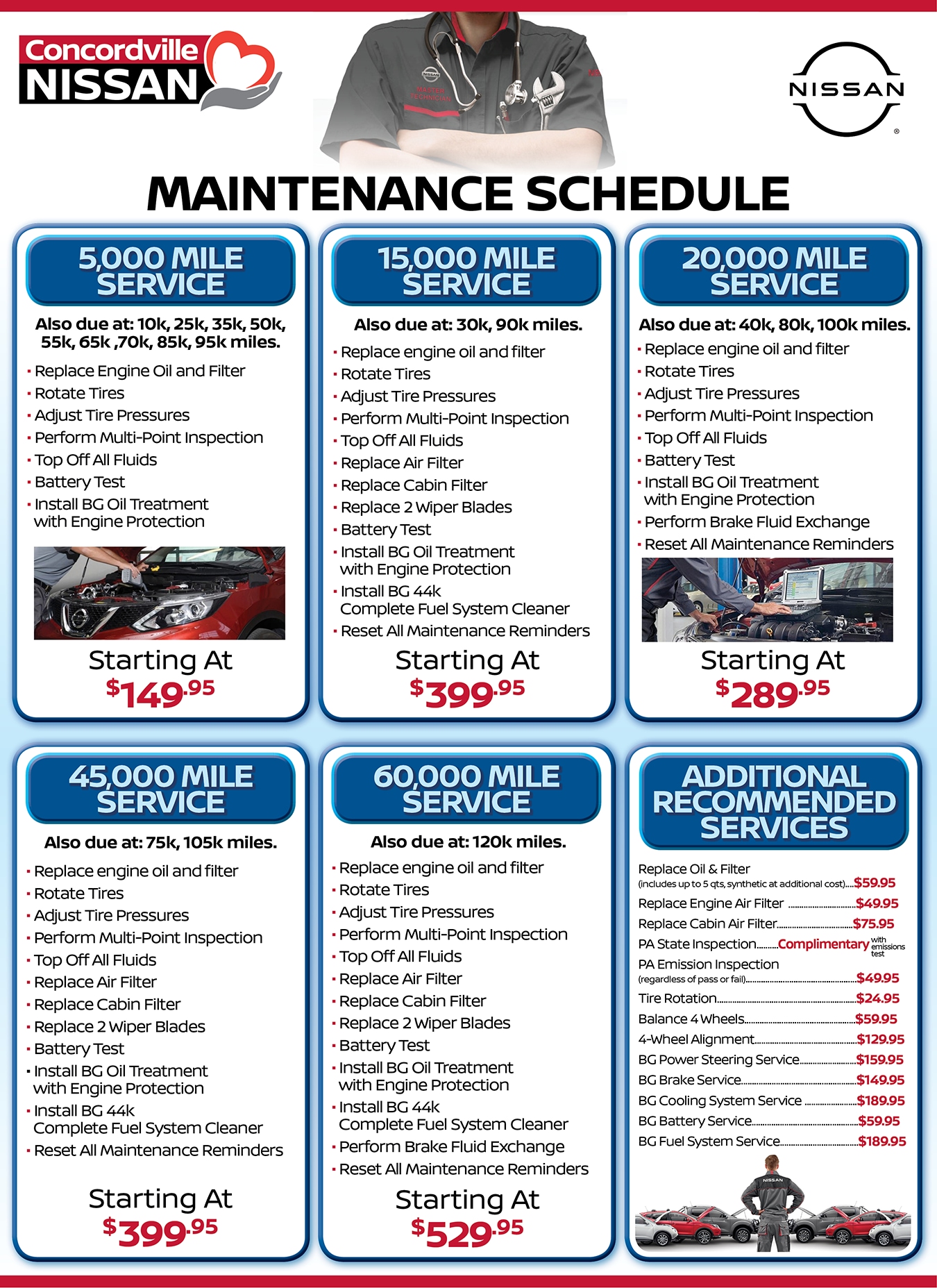 Protecting Your Investment
As you drive your car, moisture and exhaust pollutants contaminate your engine oil, reducing its ability to effectively protect vital engine components. The longer engine oil stays in service after the recommended maintenance schedule, the less its ability to lubricate and cool engine parts. Having your oil changed by a qualified Nissan technician at the recommended intervals, with a genuine Nissan oil filter, not only extends the life of your engine, but helps your vehicle retain a higher resale value. This is just one example of why scheduling an appointment to perform scheduled maintenance such as oil change, tire rotation, tune-ups and alignments are important to the health of your Nissan.
Engine Oil - The Lifeblood of your Nissan
Most people know that engine oil provides protection against friction by creating a thin barrier of oil between the moving parts. But engine oil does more than reduce friction and prevent wear and damage. Did you know that oil also helps keep your engine clean? Dust and dirt that may have slipped by the air filter, along with contaminants produced during the combustion process are captured and retained by the engine oil. The oil filter removes the larger particles as the oil passes through it, but the oil still retains and continues to collect contaminants during its useful life. This is why engine oil is light in color when it goes in and very dark in color when it is removed and replaced. Since engine oil has a limited capacity to hold these contaminants, by not changing the oil on your Nissan at the scheduled intervals, those un-trapped contaminants could cause premature wear to engine components, or settle in the engine and oil pan in what is commonly referred to as sludge. In addition to lubricating and helping to remove dirt, engine oil also helps the engine run cool. As oil circulates through the engine it rises in temperature, and carries that heat to the oil pan (which is exposed to a constant air flow when your Nissan is moving which helps dissipate the heat away from the engine. Some heavy duty vehicles may use an oil cooler, mounted behind the front grill near the radiator to further help reduce the heat transferred by engine oil.
When do I need to change the oil on my Nissan?
Your owner's manual will have the oil change intervals recommended by the manufacturer or you can ask one of our professionals. The type of driving you do may require you to change your oil at more frequent intervals. For example: If you carry heavy loads on a regular basis or do a lot of stop and go driving, the engine oil will be less likely to dissipate the heat it is carrying, leading to a quicker breakdown of its protective qualities, we also offer Mobile One full synthetic oil changes at affordable prices.
What type of Oil is right for my Nissan?
Your Nissan owner's manual will not only list the recommended intervals for changing your oil, but will list the recommended "weight" of oil to use. The numbers on the bottle of oil are often referred to as the "weight" of the oil. But what does this mean? Many cars on the road today use SAE 5W-30 engine oil. The acronym "SAE" stands for Society of Automotive Engineers. Think of this as a bunch of smart people in white lab coats who set the standards that motor oil must meet for viscosity. Think of viscosity as the thickness of oil, which will determine how well it flows through an engine under various conditions. So for engine oil rated at 5W-30, the "5" is the cold or winter weight. When oil is cold, it is thicker (think of cold syrup versus hot syrup) and will be more difficult to move through the engine. Engine oils are designed to have a thinner viscosity when cold, thus a "5" rating for this particular oil. Lower viscosity engine oil not only flows more readily through a cold engine, it helps improve fuel economy. The second number of the oil weight "30" is the weight of the oil when hot. Motor oils are designed to get thicker as they heat up to ensure proper engine protection, we also offer full synthetic oil changes to help protect your investment which is a step above most oil changes and is always a good idea . If you are unsure of which engine oil is best for your car or truck, check with your certified Nissan technician or Advisor.