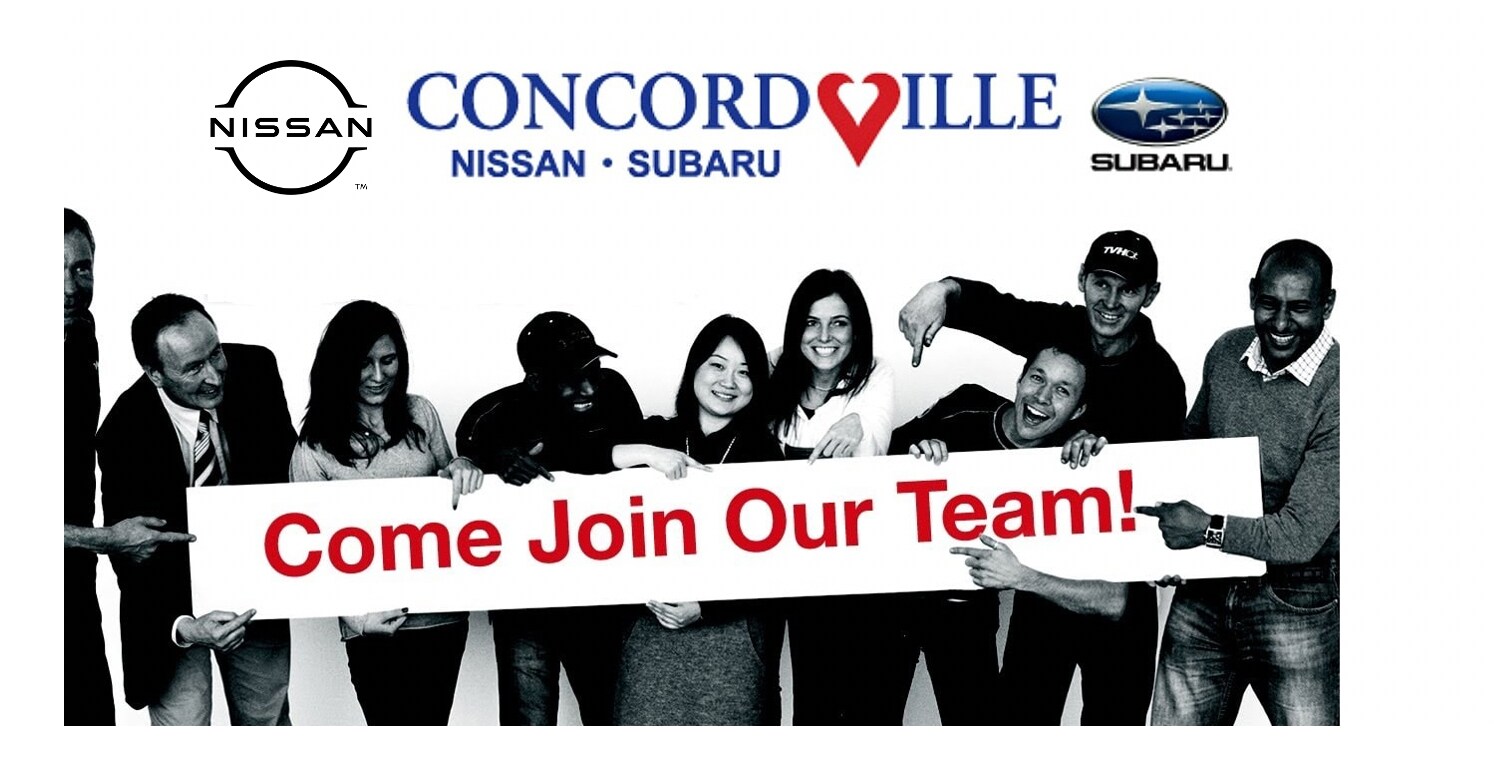 Job Openings
Sales Associate
SALES - GUARANTEEED SALARY - WITH OR WITHOUT EXPERIENCE
Concordville Nissan is accepting resumes & conducting personal interviews to hire:
Sales Professionals / Sales Associates / Client Advisors
for our New, Internet & Pre-owned vehicle departments.
This is a RARE opportunity to make a difference by joining a thriving auto dealership.
Business is booming - apply today!
Go to work - Sell Cars - Have Fun - Make Money!
_
_
We run a large volume dealership, with the opportunity to earn BIG Money and make a GREAT living!!!
What We Will Offer You:
-Top Pay Plan in the Business
-Aggressive Performance Incentives
-Excellent Medical Benefits
-401K with Employer Match!!!
-Paid Vacation and Holiday's
-Professional Training Provided both in store and our
-Family Friendly Work Schedule
-A Professional and Respectful Work Environment
-Family Owned and Operated for over 25 Years
What We are Looking For:
-Professional Candidates with Great Communication Skills
-Highly Organized
-Ability to Lead a Team and Work Well with Others
-Highly Motivated and Striving to Succeed
-Career Minded and Looking for Long Term Employment
-Self Starter
-Positive Attitude and Strong Work Ethic
So if you are looking to start a career in the automotive industry, or just looking to make a change, please look no further.
We will train and mentor the right candidates.
Required experience:
Apply for Position
TECHNICIANS - MECHANICS
Concordville Nissan is looking to fill positions for all levels of technicians/mechanics; from lube techs to transmission specialists.
We run a very busy mechanical shop and are in need of highly motivated mechanics with the ability to turn lots of hours. Huge earning potential!!!
We will provide you with endless work, a steady schedule, a great work environment and working conditions. Our newly remolded shop is the perfect place to continue and enhance your career.
WHAT WE WILL PROVIDE YOU:
-Top Pay
-Excellent Medical Benefits
-401k with employer match
-Paid Holiday and Vacation
-Sign on Bonus
-Family Owned and Operated for over 25 Years, Nurturing Work Environment
-Fully Paid, Ongoing Training to improve your career
-Latest technology and equipment to work with
-Safety Committee monitoring all areas of the shop to mitigate injury
-Experienced, Friendly Management and Support Staff
-Flexible Work Schedules
-High Volume/High Compensation
-Quick Advancement Opportunities
-Performance Incentives
WHO WE ARE SEEKING
-Professional, Committed Individuals with the desire to succeed
-Excellent Interpersonal Skills, with the ability to work well with others
-Leadership skills
-Highly Motivated
-Career Minded and Looking for a Place to call Home
-Positive Attitude and Strong Work Ethic
We are expanding our operations with a Brand New Subaru Facility and plan on filling several openings with Class A Mechanics, Class B Mechanics, Class C Mechanics, Lead Technicians, Master Technicians, Diagnostic Mechanics, Service Technicians, Quick Lube Technicians, Brake and Transmission Technicians, State and Emission Inspection Technicians, Automotive Service Mechanics, Automotive Technicians, Subaru, Nissan, Toyota, Honda, Chevrolet, Chrysler, Dodge, Hyundai, Kia, and all makes and model Technicians,
Job Type: Full Time
Auto Technician: 1 Year
Auto Mechanic: 1 Year
Apply for Position
SALES ASSOCIATES - SALES CONSULTANTS

Put your career in High Gear.....
Huge Earning Potential.......
If you are looking for an opportunity to work for a fast growing, family owned dealership, Concordville Nissan is for you! Concordville Nissan is always looking for a qualified individuals to join our sales team to help handle the increase in business we are experiencing.
At Concordville Nissan, we strive to make every customer a customer for life. Happy employees make happy customers, and we reward individuals who are ready to work hard and stay motivated. At Concordville Nissan, we believe our employees are our greatest asset. As such, we treat all employees with respect and appreciation for their contributions to the company. We believe not only in providing ongoing training, but also rewarding outstanding effort and results through bonus and commission programs.
What We Offer
Medical and Dental
401KPlan
Paid time off and vacation
Growth opportunities
Paid Training
Employee vehicle purchase plans
Family owned and operated
Long term job security
Health and wellness
Flexible Work Schedule
Saturday Lunches
Discounts on products and services
Responsibilities
Build relationships & create customers for life. Assist them in selecting a vehicle by asking questions and listening carefully to their responses.
Be the vehicle expert. Know the in's & the out's of product offerings, optional packages & latest technology
Perform high-quality and professional demonstrations of new/used vehicles.
Follow-up with buyers to ensure referral business.
Learn to overcome objections and thrive in sales situations
Direct report to the Sales Manager regarding objectives, planned activities, reviews, and analyses.
Bring your 'A game' & positive attitude with you every day
Qualifications
Available to work flexible hours & weekends
Ready to hit the ground running on learning new product in's & out's
Fantastic communication skills with your customers
Professional, well-groomed personal appearance.
Clean driving record
Willing to submit to a pre-employment background check & drug screen
Customer Care Representative, Sales Associate, Sales Representative, Host, Hostess, Sales Professional, Mazda, Hyundai, Kia, Chevrolet, Dodge, Jeep,
AUTOMOTIVE TECHNICIANS - AUTOMOTIVE MECHANICS
We are growing and will soon be moving into an additional service center. If you are able to keep up with a fast paced, busy Service Department, come in and check us out. We are looking for highly motivated, professional technicians of every skill level.
Job Responsibilities:
Receive repair orders from advisor or dispatcher;
Perform work as outlined on repair order with efficiency and accuracy, in accordance with dealership and factory standards;
Diagnose cause of any malfunction and perform necessary repairs;
Communicate with parts department to obtain needed parts;
Examine the vehicle to determine if additional safety or service work is required;
Notify service advisor immediately if additional work outlined is not needed or required;
Road-test vehicles when required;
Attend factory-sponsored training classes as required;
Knowledge, Skills and Abilities Required:
ASE Certification preferred;
Experience preferred;
An active and valid driver license and good driving record;
Ability to maintain a positive attitude while working under pressure in a fast-paced environment;
Capability to prioritize multiple tasks effectively;
.Employee Benefits:
Medical and dental insurance coverage
Most competitive pay plan in the region
Family owned and operated Dealership
Excellent Managment and Service Staff
Life insurance
401k with company match;
Flexible work schedule
Employee discounts on vehicle purchases, parts and service;
Opportunities for advancement.
We are an Equal Opportunity Employer. Applicants must be able to pass pre-employment testing to include MVR, background check and drug screen.
Nissan, Subaru, Mazda, Honda, GM, Toyota, A Tech, B Tech, C Tech, Lube Tech, ASE,
AUTOMOTIVE DETAILER/DETAIL TECHNICIAN

Concordville Nissan We are looking for professional detailers to come join our growing family.
Brand New Facilities
$$$$ Our Shops are always busy. Huge Earning Potential $$$$
Concordville Nissan/Subaru is in search of full-time automotive detailers for our Recon Departments. We are looking for hard working individuals with a sense of pride in their work to join our growing family..
Responsibilities
Full detailing of new/pre-owned vehicles
Experience in full detailing prep work
Prepare new cars for customer delivery
Perform full detail on customers cars
Assist with stock-in/check-in new vehicles
Pinstriping/Accessories
Qualifications
Sense of Pride in your work
Able to work well with others and learn new tasks
Enjoy working in a fast-paced environment
Positive, friendly attitude, along with a customer service mentality
Strong work ethic
Desire to work hard and earn $$$$
We Offer
Great work enviornment
Huge Earning Potential
Medical and Dental Benefits
Life Insurance
401K with Employer Match
Consistently Busy Shops
Brand New Facilities
On the Job Training
Career Path for Growth
RECEPTIONIST/OPERATOR (FULL/PART TIME)
Concordville Nissan (located in Glen Mills PA), is searching for an outgoing, friendly individual to join our growing family. Candidate must be available for evening and weekend work hours.
The desired candidate we are seeking is well organized, able to work in a fast paced environment and be a customer focused individual. Friendly and outgoing disposition is a must.
Job Description:
Answer incoming sales calls and service calls
Process payments after sales and service
Assist in all aspects of the sales and service process
We Offer:
A stable working environment with plenty of opportunities for advancement
Family owned "team approach" work environment
Training and support to take your career to a whole new level
Job: Part Time, automotive receptionist, automotive greeter, customer service representative, administrative assistant
Make an Inquiry