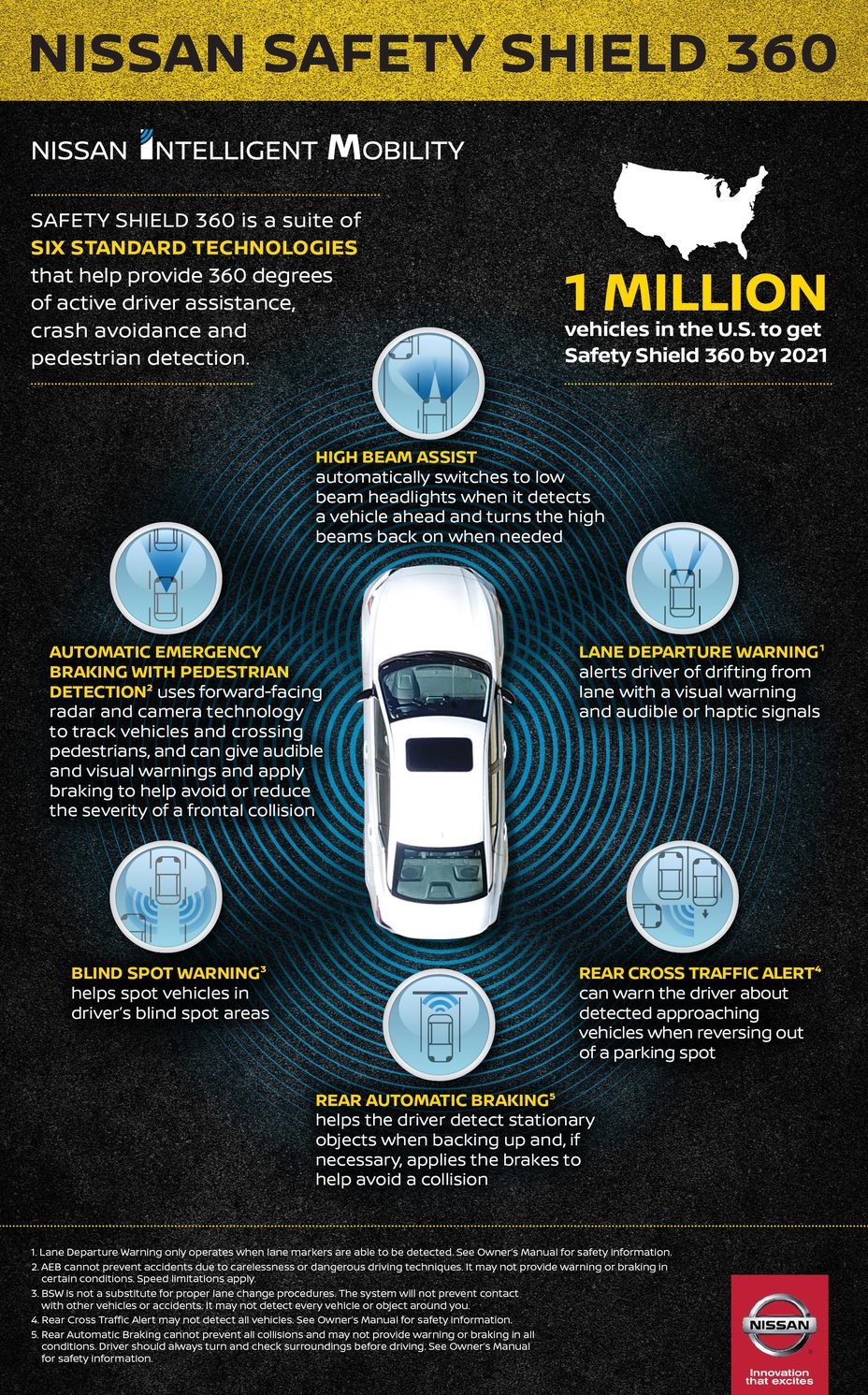 At Concordville NIssan, we are committed to keeping customers safe when they get behind the wheel. Learn more about the available safety features you access when driving a Nissan, all encompassed in Nissan Intelligent Safety Shield Technologies. These driver-assistive innovations are designed with you in mind, helping to get you where you need to go safely and securely. 
Tech To Monitor Your Driving Conditions
Nissan has implemented certain features that monitor conditions behind the wheel. Feature availability varies by model, so if any tech catches your eye, the team at Gunn Nissan of Denton can help you find a vehicle that is fully equipped with what you need! 
Predictive Forward Collision Warning - Get audible and visual warnings on your instrument panel when the vehicle in front of you decelerates. Using a radar sensor, it can detect up to two vehicles ahead. 
Automatic Emergency Braking - Keep a safe distance with the vehicle in front of you with this feature, and receive audible and visual warnings to slow down if a potential crash is detected. Brakes are automatically engaged if you fail to respond. 
Blind Spot Warning - Get an alert if another vehicle is detected in your blindspot via an indicator that illuminates on the driver or front passenger door pillar and the Advanced Drive-Assist® Display. If your blinker is on, the indicator flashes and makes an audible chime. 
Rear Cross Traffic Alert - When backing out of a parking space, this feature warns you of vehicles you may not see approaching from either side. 
Rearview Monitor - Make parallel parking a breeze with the Rearview Monitor, which gives you a view of what is directly behind you. You'll receive guidance with green, yellow, and red indicators to let you know how much space you have between other objects. 
Intelligent Cruise Control - This feature adjusts your Cruise Control to maintain a safe distance between you and the car in front. You can select and adjust the distance as you see fit. 
Tire Pressure Monitoring System - This system lets you know if your tire pressure is low via an icon on the dash. When you fill them up, your Easy-Fill Tire Alert will flash your lights and beep your horn to let them know they're at the right pressure.
Intelligent Around View® Monitor with Moving Object Detection - Get a 360-degree view of your vehicle with this feature and receive alerts via the Moving Object Detection system if objects cross your path. 
Front and Rear Sonar System - Parking is simple with this feature, which alerts you when it detects objects that are close to your bumper while backing up. 
Driver Attention Alert (DAA) - Get audible alerts if you Nissan detects any unusual steering activity or a coffee cup icon if this feature senses it might be time for you to take a break. 
Standard Responsive Technology In The Event of an Obstacle
While Nissan works hard to keep you safe behind the wheel, we can't anticipate everything on the road ahead. Thanks to the following features, however, you are better protected in the event that you need to hit the brakes or avoid an unexpected obstacle. 
Vehicle Dynamic Control keeps you on your steered path.
Traction Control reduces wheelspin when your Nissan loses traction.
Intelligent Auto Headlights adjust to the conditions outside, turning on and off as needed. They also work with your windshield wipers, turning on after four swipes. 
Anti-Lock Brakes aid in steering control around obstacles if you are braking heavily
Electronic Brake Force Distribution sends extra force to the rear brakes when weight distribution is uneven due to passengers or cargo. 
Brake Assist will detect hard braking and apply maximum forces if it detects an emergency situation.
Protect Your Loved Ones in Your New Nissan 
Nissan has you covered when it comes to protective measures, as you're also backed by a Nissan Advanced Air Bag System and the Snug Kids® Child Safety Seat Fit Guide. LATCH-compatible child restraints also allow you to keep your children safe without having to use seat belts or a locking clip.
Learn More From Our Springfield, PA Area Nissan Dealer
If you're interested in learning more about these features or exploring a new Nissan model equipped with the latest safety tech, Concordville NIssan  is here to help! For more information, don't hesitate to contact us today.