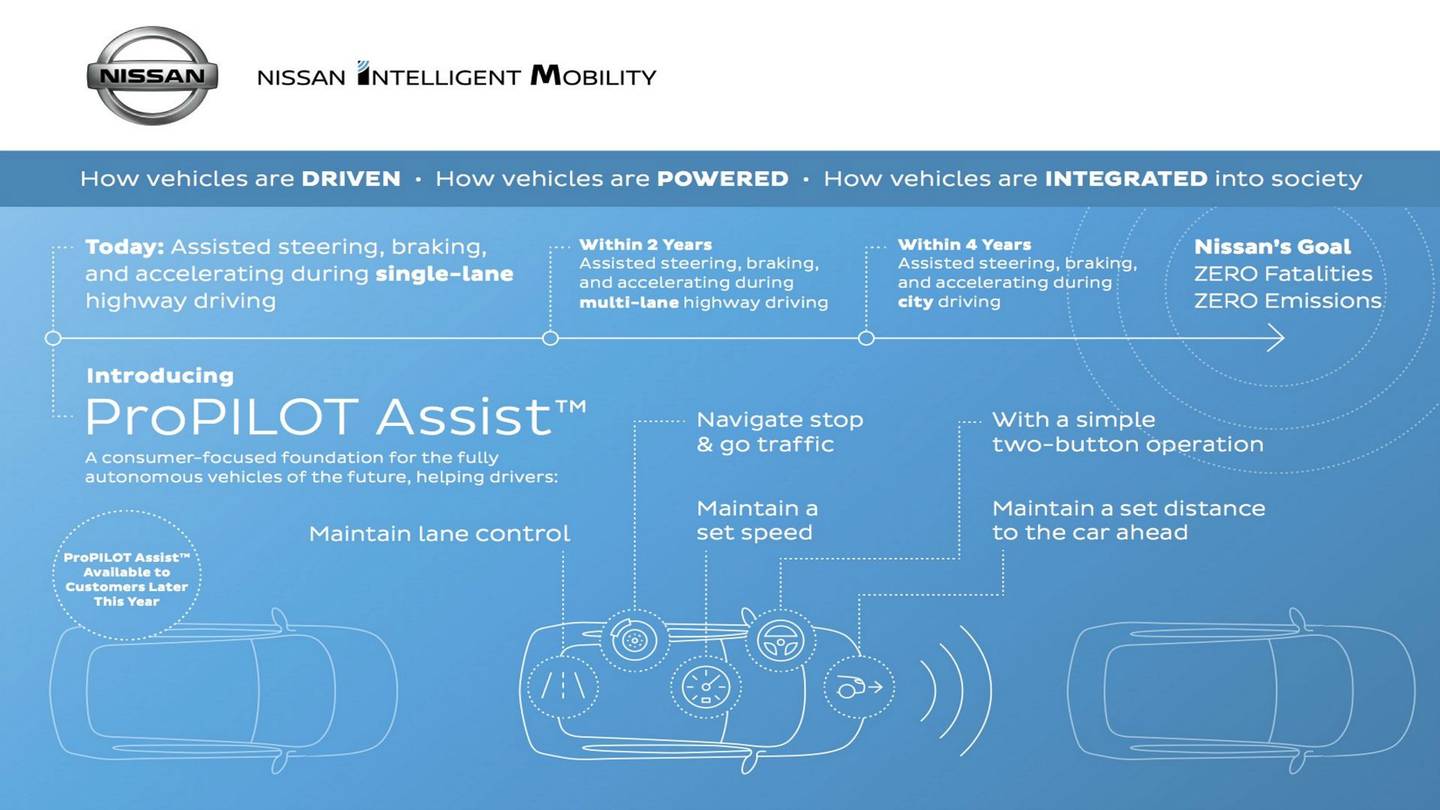 ProPILOT Assist is the first generation of Nissans innovative driver-assistive technology, designed to keep you on the right path when setting out on longer journeys, as well as when traffic strikes on your daily commute. Learn more about how this tech works from our Corinth area Nissan dealer and take advantage of all that your vehicle has to offer today!
How Does ProPilot Assist Work?
A front radar sensor and a front-facing camera situated behind your rearview mirror help to keep a safe amount of space between you and the vehicle in front of you, all while keeping you in the center of your lane. This system also works with your Intelligent Cruise Control and Steering Assist to bring your Nissan to a full stop if necessary, bringing you back up to speed when traffic gets moving.
You are able to set your desired speed and distance between your Nissan and the car in front of you via a steering-wheel-mounted button. When this feature is in use, you will be alerted if you sway out of your lane and will even provide small steering inputs via Steering Assist. ProPILOT is also aware of whether or not your hands are on the wheel. Youll get visual and audible alerts, then a pulse of the brakes if it senses your hands are not in place. If neither attempt is successful, ProPILOT will gently apply the brakes, slow down in the lane, turn on hazards, and come to a complete stop.
Learn More From Our West Chester, PA Area Nissan Dealer
ProPILOT Assist represents the future of Nissans driver-assistive technology, which is encompassed by Nissan Intelligent Mobility. Access this feature and more when you drive select models from our inventory, including the 2020 Nissan Rogue, 2020 Nissan Rogue Sport, 2020 Nissan Leaf, and 2020 Nissan Altima.
Interested in learning more about all that ProPILOT Assist has to offer? Dont hesitate to us at 610-459-8900 or wecare@concordvillecares.com