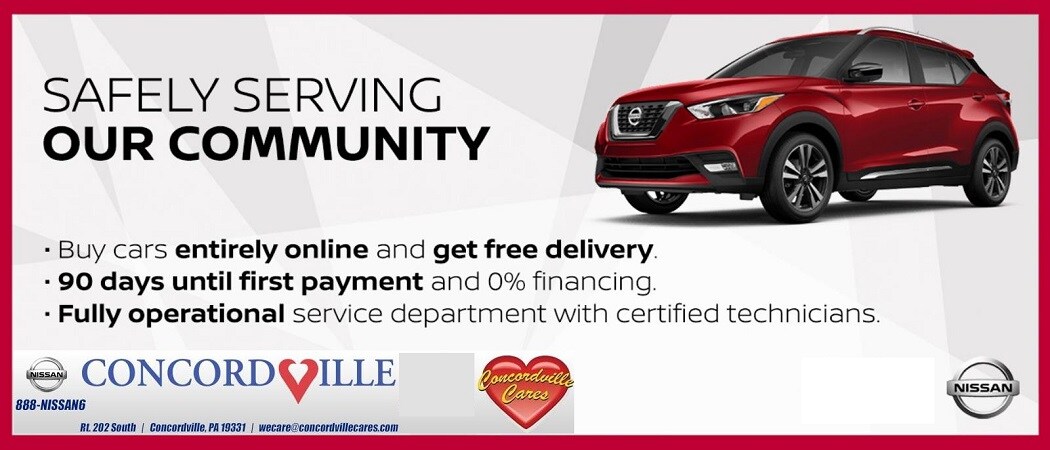 Effective 4/20.
We are now Open for Remote Online Vehicle Sales and Delivery.

                                            Concordville Nissan - Service Open with Modified Hours
We are doing our very best at Concordville Nissan to balance providing needed service with safeguarding our customers and employee's health which is our #1 priority.  Rest assured that we have adhered to all suggested measures to ensure that both our showroom and service areas are fully sanitized.
With that said, we want to support our customers that need automotive repairs or service. We are therefore opening our service department for limited hours as follows:
Monday thru Thursday from 8:00am - 4:00pm
BY APPOINTMENT ONLY
Reminder:  We service all makes and models recognizing that there are limited servicing options available.
To adhere with social distancing the following measures will be taken:
1.    Complimentary Pick Up / Drop Off - Complimentary pick up and drop off of your vehicle for service is available within 10 miles of the dealership.
·         Note: This request must be made at the time of scheduling your service appointment.
2.    Rental Vehicle - If your vehicles necessary repairs cannot be completed on the same day as the appointment, we will have access to a rental vehicle to use until your car repair is complete.
3.    Waiting Areas - If you choose to wait for your vehicle while it is being serviced, we will have designated wait areas throughout our showroom and service to ensure that all customers are appropriately distanced.
4.    Vehicle Sanitation: Each vehicle will be sanitized before returning the vehicle to our customer.
To schedule a service appointment during these modified hours, please email either:
cdesantis@concordvillecares.com - Chuck DeSantis, General Manager
bbollinger@concordvillecares.com - Bob Bollinger, Service Manager
wecare@concordvillecares.com - General Mailbox

These are unprecedented times and we are doing our very best to navigate during the Covid-19 pandemic. On behalf of everyone at Concordville Nissan, I want to thank you for your support and understanding.
Please stay safe and do not hesitate to contact us if we can be of any help.

Chuck DeSantis
General Manager
Concordville Nissan
3/20
Pursuant to Governors Wolfs request, we have temporarily closed our Nissan Sales Department. We will be open limited hours for service and parts begining Monday March 23.

If you are in need of Service, please use our online scheduler or call us at 888-693-0765.  We have taken extra mearusres and precautions to ensure the safety of our staff and customers.

It is our responsibility to our employees and customers to do our part to lessen the spread of COViD-19. 
In the interim you can utilize our chat feature which will be monitored, contact the following employees for questions or email us at wecare@concordvillecares.com
Chuck DeSantis General Manager cdesantis@concordvillecares.com,

3/17
A message from Concordville Nissan    
There continues to be many developments regarding the Coronavirus. It has impacted all facets of life and we want you to know that your health is of utmost importance to Concordville Nissan. We truly live by our motto, "Concordville Cares" but with even greater care in today's environment.
We've always taken great pride in our dealership to ensure it is always clean and presentable but at this time, cleanliness is paramount.  Concordville Nissan has a daily cleaning service which are increasing frequency, using anti-bacterial and environmentally safe products in all departments. Regular cleaning service is the most important preventive measures we can take for our employees and customers!
While your car is in for service our valets, advisers, technicians, and detail shops are also taking precautions and following best practices. If you need service but prefer to not come into our dealership, we will offer pick-up and delivery.
During this time, we are also committed to taking care of our employees. We're encouraging sick employees to stay home and asking our team members not to travel unless absolutely necessary. Additionally, though we love to greet our customers warmly and professionally, we've temporarily instructed our team to welcome our guests with a friendly greeting but refrain from handshakes.
If you are in the market for a new or pre-owned vehicle but prefer to research from the comfort of your home, you can easily browse our user friendly website at  concordvillenissan.com.  Shopping from your mobile phone or computer has never been simpler. You can text or call any employee owner so we can best assist you with all your automotive needs. If you prefer that an associate meet you at your home or office for a test drive, we can also accommodate this request so do not hesitate to inquire.
As our dealer principal says, "Talk to us, we'd love to hear from you!" Especially in these trying times, please feel free to reach out in any manner that comforts you best.
Thank you for your business and trust in Concordvlle Nissan.
_____________________________________________________________________________________________________________
3/17
A Message From Our General Manager
Concordville Nissan is closely monitoring the reports coming from the CDC and the state regarding the developments of these challenging times. We will be operating under an adjusted schedule for Sales, Service and parts departments. We know that personal vehicles are the number one mode of Transportation for most people, so we want to make our Service, Parts and Sales departments remain open for that reason
Sales Hours: 
Monday thru Friday 10:00 - 7:00
Saturday 9:00 - 5:00.
Service and Parts Hours
Monday thru Friday 8:00 - 5:00
Saturday 8:00 - 4:00
If you're planning to visit our store, we are following all CDC, state and local health official guidelines and have strengthened our cleaning procedures including increasing the frequency of our cleaning schedule and the use of stronger disinfectant products on all surfaces throughout the dealership.
If you're vehicle is scheduled for service or needs immediate attention, we have increased our Lyft service for those who do not wish to wait for service and to encourage the CDC's social distancing guidelines while your vehicle is being serviced.
If you're purchasing a vehicle or you're in the process of searching for one, we're encouraging that you use our online access and chat to go through the sales process. Our main point of contact would be Chuck DeSantis . There are numerous ways of contacting sales or your salesperson on our websites.
On behalf of the entire Concordville Nissan Team, we thank you for being a loyal customer. We will keep you updated throughout this ever-changing situation and Please know that our team is here to serve your sales and service needs during this challenging times.
Chuck DeSantis
General Manager
Cdesantis@concordvillecares.com
Concordville Nissan
452 Wilmington-West Chester Pk.
Glen Mills, PA 19342
888-693-0765